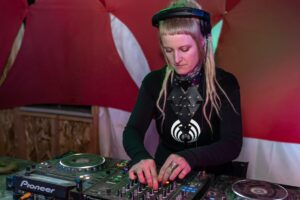 There was always a song being sung or an instrument being played in her house for as long as she can remember.
Her early ventures in music included musical theatre, cello, and flute. And during her teenage years she studied
classical and flamenco guitar.
Her explorations in music lead her to realize her love for rhythm and dance oriented music and she began listening to
underground electronic music of all genres as a young adult.
In 2006, she began collecting vinyl and learning how to navigate on a pair of Technics. She continued to learn and
develop her skills over the years.
In 2014 she joined the Star Camp Shasta crew based out of Northern California, and realized that she had found her
musical home in psytrance. Her love for the culture has driven her to be an active participant in event production and
organization and she plays a key role as a crew member of Star Camp Shasta's annual festival.
As her DJ career has gradually gained momentum, she can often be found blasting dance floors on the west coast.
Most recently she has begun to venture into the world of music production, and is gradually learning how to navigate
the studio world. The journey is never over, and in the spirit of serendipity, she is always enthusiastic to learn and
grow as an artist through her experiences and discoveries along the way.